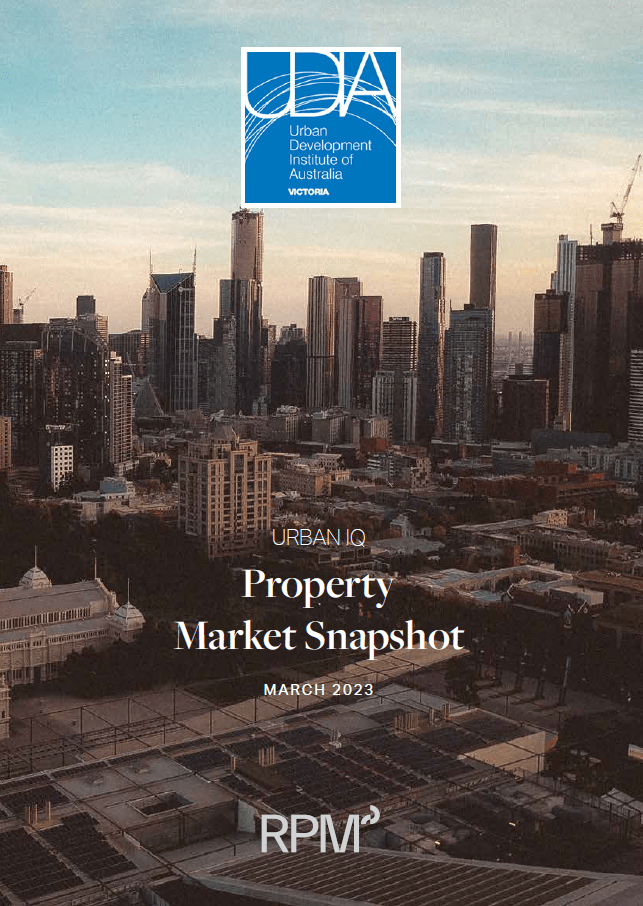 UDIA Victoria, in partnership with RPM Group, has released the latest quarterly URBAN IQ research publication.
The research provides data, research and analysis to help our members understand the conditions in which we are operating.
Read the full Urban IQ Q4 here
---
Summary of Key Findings
Economic Overview
Gross Domestic Product
Despite rapidly rising interest rates, declining real wages and weak sentiment, national GDP still increased by 0.5% in Q4 2022.

Household Savings Ratio
The household savings rate fell to just 4.5% in Q4. This is the lowest point since 2008, coinciding with the last cash rate peak of 7.25% and borrowing rates above 9%.

Household Consumption
Consumption has pivoted to non-discretionary items in response to deteriorating family finances, demonstrated by growth in food, utilities, health and education.

Interest Rates
3.60% Cash Rate (Mar 23)
7.77% Standard Variable Rate for Owner Occupiers (Feb 23)
6.22% Discounted Variable Rate (Feb 23)
5.95% 3 Year Fixed Rate (Feb 23)

The RBA's decision to raise the cash rate by 25 basis points in both February and March this year has resulted in the highest cash rate in more than decade. This is in response to CPI remaining high in Q4 at 7.83% on a rolling annual basis, well above the target 2-3% range.

CPI and the New Dwelling Index
7.83% Australian CPI Q4 year on year.
1.70% CPI Index for new dwellings Q4 2022.
1.22% CPI Index for rents Q4 2022.
Labour Markets
Indicators suggest a cooling in the labour market, with Victoria shedding 41,300 jobs across November and December. The resulting unemployment rate lifting to over 4% for the first time since April 2022.
Wages vs. CPI
Victoria's wage price index rose by 0.77% over the quarter, and 1.63% annually, both below their respective CPI figures resulting in real wages falling.

Market Sentiment
After a brief rally through the Christmas and new year period, consumers returned to pessimism following further rate hikes and an elevated CPI reading in December.
NAB Business Conditions Index
Business confidence improved after stagnating in Q4, with capacity utilisation and forward orders (a leading indicator) strengthening.
Victorian Population
Victoria's population increased 36,418 in Q3 2022 (latest available data), the highest increase for a three month period since Q1 2019 with students returning a primary driver.
Active Estates
The Western Growth Corridor was the only region to experience a reduction in the number of active estates, compared to the same time last year.
Lot Supply
Despite total active estates increasing, new lot supply during the three months to February 2023 continue to diminish.
Lot Sales
On going weak purchaser sentiment, and seasonal holiday impacts, combined to lead to gross sales contracting to 1,829 lots over the three months to February 2023.
Lot Price Change
Recent quarterly movements in median lot values suggests prices are stabilising, with some downward pressure coming through.
Lot Sizes
Smaller lot sizes are becoming increasingly attractive among purchasers, used as a means to offset elevated construction costs.
Melbourne Residential Market

$974,000 = Median House Price.
-1.6% change from Q3 2022.
-13.4% from Q4 2021.

$627,500 = Median Unit Price.
-2.6% change from Q3 2022.
-9.1% from Q4 2021.

$382,000 = Median Lot Price.
+1.3% change from Q3 2022.
+10.7% from Q4 2021.

The relative affordability advantage of the greenfield market continues to diminish as established house prices soften.
Building Activity
Victoria Building and Finance Activity
Total owner occupier loan approvals are down -25.9% vs. last quarter at a total of 24,534.
Average first home buyer loan size is up +1.7% reflecting a withdrawal of buyers who traditionally transact at the more affordable price brackets -$505,064.
Detached Home Approvals Activity
8,939 approvals were recorded over Q4, equating to a reduction of 10.9%.
Approvals and Commencements
16,300 dwelling approvals were recorded in Q4 2022, up 7.9% from Q3. However, on an annualised basis – this is down 1%.
Commencements
Commencements are anticipated to continue moderating, but at a slower rate (around 6% per annum) through to FY2025.
Growth Area Affordability
Historically, the common benchmark for identifying housing stress in Australia has been identified as those that allocate at least 30% of disposable household income to finance their mortgage. This ratio has been in place for decades but recently, there is a growing view that the ratio should be closer to 35% to 40% to reflect today's market.

There are now 18 suburbs with a household income ratio between 35% and 39%, a level synonymous with the emergence of constrained affordability. This is down from 25 suburbs in Q3, with interest rate rises pushing additional suburbs into less affordable brackets.
Outlook

TAILWINDS
Re-opening of state and international borders
Net overseas migration is a key driver of economic growth. Its return will boost economic activity and alleviate staff shortages across industries.
Tight labour market to underpin wage growth
Wage growth is on the rise – up to the low 4.0%'s.
Melbourne's Reputation
Melbourne's reputation has remained in place. Students and investors are coming back.

HEADWINDS
Consumer confidence
Now at a lower level than during the pandemic, with affordability concerns at the centre of focus.
Ongoing conflict in Eastern Europe
May exacerbate supply chain issues, resulting in further inflationary pressures, particularly on oil.
Further cash rate rises
RBA maintains tightening bias towards interest rates with inflation remaining well above target range 2-3%.
Construction Costs
Although growth in construction costs is slowing, they will remain elevated and not go backwards.
---

The Urban IQ Property Market reports are produced for UDIA Victoria by RPM Group.
The reports provide a quarterly update on the Victorian residential market including economic activity, prices, finance, building, sentiment and affordability metrics.