What is the Residential Development Index (RDI)?
The RDI measures the health of Victoria's residential development industry on an ongoing basis.
It examines the dynamics impacting the industry, including economic conditions, population growth, development activity, trend data, regulatory changes and policy implications. These industry activity fundamentals inform the RDI, which determines whether the industry is operating in a strong, moderate or weak market, relative to recent and long history.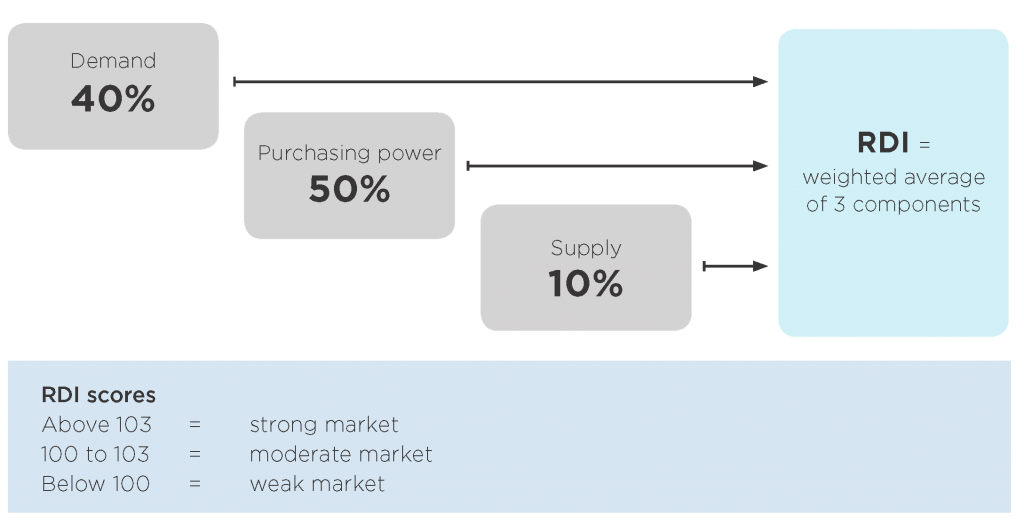 Key findings of the 2019 Residential Development Index
Supply pipeline
The RDI points to a weak supply pipeline of new housing in the coming 18-24 months. This claim is supported by the fact that Victoria is forecast to need 66-68,000 new homes each year to house the growing population. In two of the last three years we have underdelivered. Despite this, total building approvals for dwellings in Victoria declined by 21% in FY18/19.
Contributing to the decline: Apartment approvals across Melbourne down by 54%, townhouses down by 22%, and houses down by 15%.
Melbourne's share of Victoria's overall population is expected to increase to 80.3% in 2056 compared with 76% in 2016. This shift is driving a more centralised Victoria with a reduction in the share of expected development activity in Victoria's regions overall.
Economic contribution of the industry
In FY18/19, the construction of residential dwellings and associated infrastructure requirements generated $24.6 billion in direct and indirect economic value in Victoria. Of this, around $6 billion was directly generated by the residential development sector.
Industry supported approximately 188,000 full time, part time and casual jobs across the Victorian economy. This represents a loss of approximately 34,000 jobs from FY17/18.
The 15% decline in jobs generated from FY17/18 is largely due to reduced building approvals and the expected impacts on construction activity.
In FY18/19, expenditure on the construction of 4+ storey buildings generated $4.8 billion for the Victorian economy, a 40% decline from FY17/18.
The construction of 4+ storey buildings sustained over 36,000 jobs in Victoria in FY18/19 (including direct and indirect jobs), representing a loss of 24,000 jobs since FY17/18.
---
RDI and Advocacy
The RDI is a core plank of UDIA Victoria's advocacy strategy. We rely on it daily to brief key decision-makers on the health of the industry, and to demonstrate the impact of policy and regulatory changes on the economy and the general public.
The RDI key findings have strengthened UDIA Victoria's calls for:
Action to address the declining supply of new housing, including the re-introduction of stamp duty incentives for investors and the removal of tax surcharges for foreign purchasers;
Focus on promoting Victoria as an investment destination for the property and development industries and take early steps to outline industry's role in major infrastructure projects including the Suburban Rail Loop so that planning controls and value capture mechanisms are known early and investment can be made with certainty;
Continue to address post-planning delivery constraints by working with state agencies, service delivery authorities and local government, to enable the development industry to convert land supply into new lots for housing in our growth areas; and
Undertake an evidence-based review of built form design controls including the Central City built form controls and the Better Apartment Design Standards to assess their cost impost and affordability impacts of any proposed changes.
The 2019 Residential Development Index has generously been translated into Mandarin by our Research Partner, Jinding Australia.
RDI Research Partners