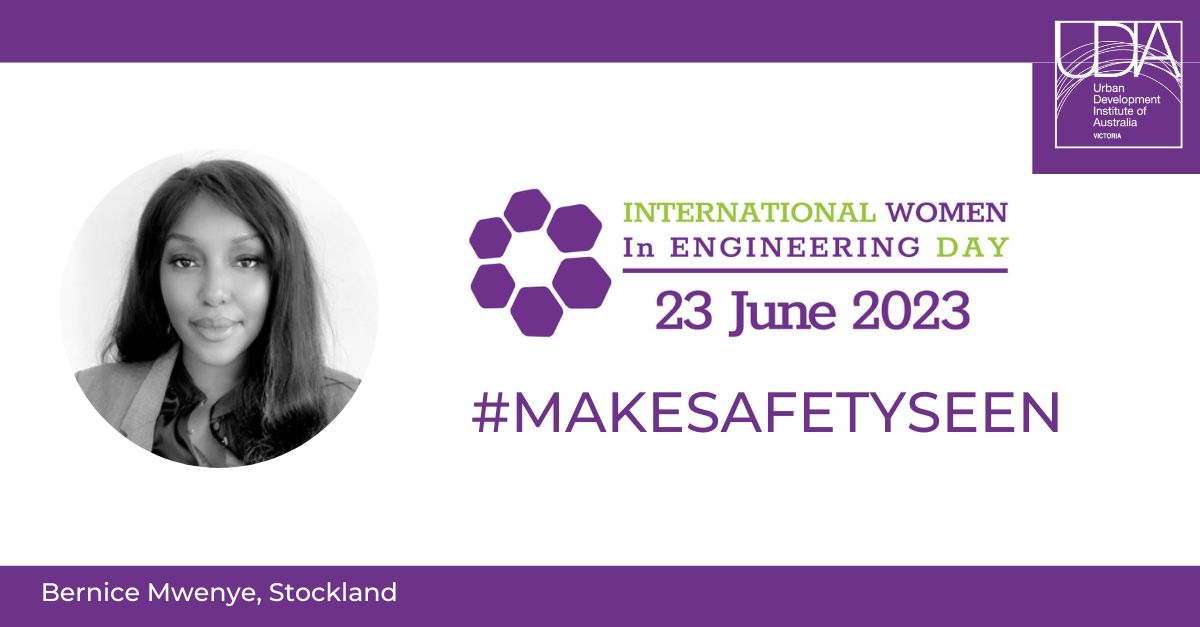 Bernice Mwenye, Stockland
Celebrating its 10th year, International Women in Engineering Day (INWED) recognises the incredible contribution engineers who identify as women are making to the profession, and encourages more young women and girls to pursue a career in engineering.
We had the opportunity to sit down with Bernice Mwenye from Stockland to discuss her journey in this field and the value of raising awareness in this space.
What is your current role?
Senior Project Manager – Northern Region
I oversee Stockland's Residential projects in Melbourne's Northern region.
What did you study and where?
Swinburne University and a Bachelor of Civil Engineering & Bachelor of Business.
Did you always know what you wanted to be?
Yes, in a way, my parents used to call me an engineer when I was little as I was always fixing things and finding solutions to my little problems. Initially, I wanted to be an architect when I was younger and ended up as an engineer when I reflect on that now, I am confident I made the right choice.
What were your previous jobs and What has led you to your current career path today?
My first engineering job was an industry-based learning experience I had in my last year of university. I worked at Stonnington Council, where I worked in their civil design department. I was fortunate enough to oversee the construction as a project manager of the designs I had completed. I remember my first roundabout design and construction. I still have the plans printed out and call them out whenever I drive past! It was from then I wanted a future as a Project Manager but knew I would need more experience in civil design.
When I graduated, Australia was in a recession and there were not many jobs available. I took some time off to travel, refresh and come back with the willingness and direction to learn and grow within the industry.
This then led me to work at a civil structural design business, InfraDesign, where I truly learnt the fundamentals of design in the civil and structural space. I had the opportunity of working on residential homes and commercial buildings and produce the civil aspects for development.
Following my time there, I moved on to work at DCE which steered me down the path of land development and project management. My time increased my knowledge and gave me the opportunity to be a part of the UDIA and truly develop my career. My peers supported me and the projects I worked on gave me sound experience working in the development industry.
I now work for one of Australia's largest residential developers and where I now lead a team who are a part of delivering new communities in Melbourne's North. We are promoting living life connected through the delivery of 1000+ lots per year and various amenities in the urban growth zone. My job experience so far has led me to this point, and I am eagerly excited for what the future holds whatever that may be. I mean… who knows what is next.
What has been your experience as a woman in a historically male-dominated field?
I remember one time in class at university and I counted how many women were in the room; in total, there were 3 women including myself in a class of over 100 students! So, it is still skewed in that direction, but it has been great to see more women in the field now over the years. The industry is embracing gender diversity and really capitalizing on the skillset that the amazing women in STEM provide on a day-to-day basis. Fortunately for me, I have worked in some great companies and with some great mentors who have been supportive and helped champion change within this sector and continue to.
The theme this year for International Women in Engineering Day is #MakeSafetySeen How have you seen this portrayed in the industry?
Safety is paramount within the industry. I work in land development and everything we do relies on safety on site, whether you are working on the sidewalk or operating heavy machinery or walking through the site doing your inspections. It is an integral part of business that the correct SWMS and safety measures are in place for the project to come to fruition.
What advice do you have for young girls who may want to become engineers?
I say go for it! I had the pleasure of volunteering with Power of Engineering which is an organization that raises awareness and promotes gender diversity in STEM and something that I always remember from that experience was seeing how brilliant the girls' minds were and seeing how engaged they were in solving problems and the activities. For many of them, engineering had not even crossed their minds as a potential career path. This is why representation matters so much! The opportunity to be present and highlight the many fields engineering has to offer was a priceless experience for all involved. It truly is a rewarding career and can open your world up to many possibilities different fields and that is the beauty of it. You get to be a part of a changing world through technology, innovation, and development and continue to break barriers by being a part of the industry.
Tip(s) for a younger version of yourself?
Always take the leap there is a lesson to be learnt either way and always look for opportunities for growth – personally and professionally.
Final Words
As a young professional, there is still so much to learn in the industry. Working as an engineer in development has opened up so many doors and I have met some incredible people in my time. Even though my day job is not technical in the field, there is still so much knowledge I have gained by being technical and used that in my day job. The UDIA Committee and Engineers Australia have also been a great source for networking and meeting like-minded individuals, so I urge anyone if you get the chance to be involved in any capacity to definitely…Get involved.