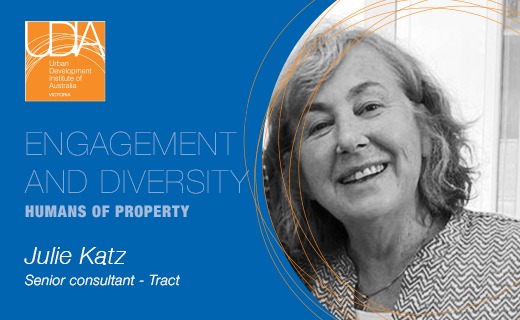 Julie Katz, Senior Consultant, Tract Consultants
For this instalment of our Humans of Property series, we caught up with recent recipient of the UDIA National Life Member Award, Julie Katz.
Her progression
Julie started her career in Town Planning with various Regional Government agencies, such as the Albury Wodonga Development Corporation in Albury and Westernport Planning Authority in Cranbourne. These instilled her passion for highlighting the importance of the regions for population growth but also principally by economic stimulus such as improved employment opportunities.
After several years in local government and the State Planning Department, Julie turned to project management of land in both inner Melbourne and greenfield sites through the Urban Land Authority (now Development Victoria) and was one of two Development Directors and their Marketing Manager.
Julie founded Katz Planning in 1994 from her home in Camberwell and after significant growth rebranded to The Planning Group (Vic) with the team at the time consisting of 22 planners and support staff with further expansion soon after to include The Planning Group (NSW).
A challenging situation in her career
I was initially enrolled in Architecture but changed to Town planning after I was advised that women in architecture were likely to be only accepted as Drafting staff long term. Right through my career, I have pursued leadership roles that demonstrate regardless of gender, you need to be smart and effective.
From my early days in planning, I have been told by others that 'a mere wisp of a girl' cannot be seen as a valid decision maker for considering Planning applications and rezonings worth many millions of dollars. "Where is a man to talk to instead" was a catchcry. I worked full time and then when I needed to juggle work with bringing up children, in 1984, I became one of the first permanent part-time workers in the State Government.
I have strived to run the gauntlet of firsts, to demonstrate women are capable of anything worthwhile and quite often, look for a wider group of options rather than consider just a yes and no answer. I was elected the first women Victorian President of any of the State divisions of the Urban Development Institute and then was elected the first female National President. I have been told over the years that I am 'too assertive' for a woman. This did not result in the desired outcome. I did not become more compliant, but certainly strived even harder.
When I started my planning consultancy, more women were employed in the firm than men. I am not an advocate of affirmative action, per se, but there are instances it is needed. I was asked if this was a deliberate strategy. It wasn't, they were just the best in the field of candidates. It certainly provided some interest in the Planning world at the time as various articles were written about the women-only consultancy.
What tip would she give her younger self?
Don't give up your value system or let derogatory words affect you striving to do your best. 
I love the phrase 'worrying is a waste of imagination'. My favourite coffee cup has this slogan on it! My colleagues have been my sounding board and their advice often provides a new perspective. Sorry, this is more than one tip! 
Her greatest inspiration
I am the third generation working mother in our family and was raised to focus on how to be financially independent and back my own judgment. I never stopped dreaming that I could do anything I put my mind to. It was hard though to have courage when often there were setbacks.
I found a great group of clients/friends who were encouraging and would tell you how to improve in really constructive ways. A Godsend. I treasure them still today.