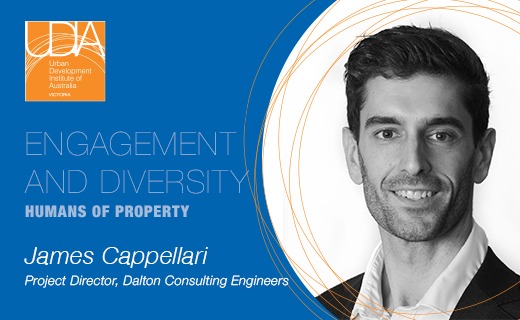 James Cappellari, Project Director, Dalton Consulting Engineers
For this instalment of our Humans of Property series, we caught up with 2021 UDIA Victoria Young Professional of the Year Award winner, James Cappellari.
James's career in our industry began in 2014 with Dalton Consulting Engineers; since then, there has been no going back. Constantly seeking new and more exciting challenges here and abroad, James jumped at the opportunity to work with ARUP in London on a truly unique project, the Canary Wharf precinct.
This development is one of the largest urban regeneration projects in all of Europe, with a plethora of challenges to success, James was able to develop and utilise every tool in his arsenal. This strenuous work saw dilapidated docklands converted into a premier office and retail space, creating one of the greatest feats of civil engineering to date.
Working in such a fast-paced and multifaceted industry, James prides himself on his focus and emphasis on sustainable and stakeholder-driven development that aims to enhance the sense of community while minimising the negative impact on the environment at large. His expertise and passion have seen him advising across the bandwidth of the development industry, from mixed-use development to master-planned residential and large-scale industrial subdivisions.
We have been elated to work closely with James through our UDIA Victoria Outlook committee to create opportunities for more upcoming young professionals in our industry to ensure our industry continues to flourish.