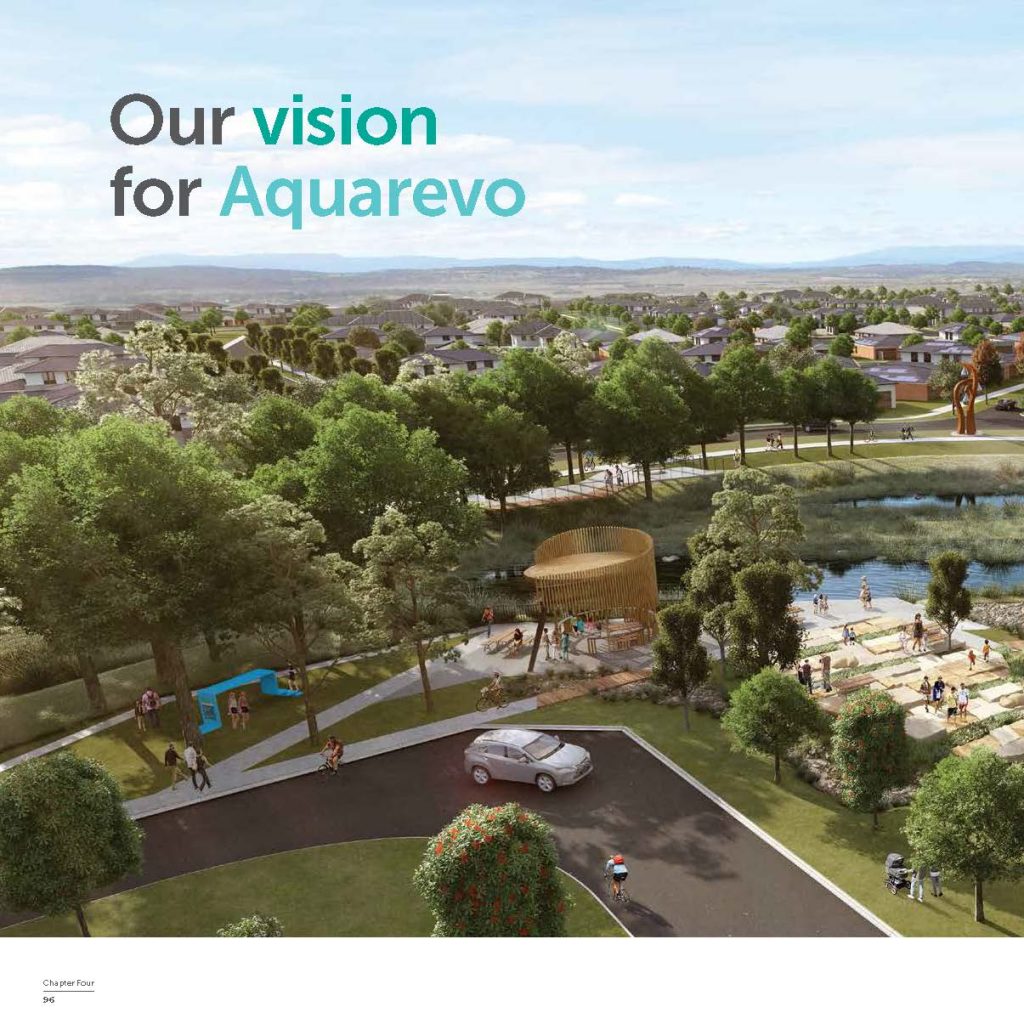 UDIA Victoria has awarded Aquarevo, the unique joint venture between South East Water and Villawood Properties, the Environmental Excellence award in recognition of its innovative water and energy conserving initiatives that make it Australia's most water and energy efficient residential community.
The UDIA Environmental Excellence award recognises developments that demonstrate how environmental challenges have been overcome, and where research, innovation and design or construction techniques have enabled a significant and outstanding response to a need for conservation and environmental improvement.
The environmentally excellent development was featured in the Herald Sun and online at realestate.com.au for its UDIA Victoria award – click here to go to the online article.
Every home within the benchmark community will save up to 70 per cent of water and 65 per cent of energy usage, compared the current Australian averages. With more than 460 homes planned at Aquarevo, these savings equate approximately to saving 24 Olympic-sized swimming pools of water or taking 300 cars off the road each year.
Villawood Properties Executive Director, Rory Costelloe, said Aquarevo, a first of its kind, provided the property and water industries the opportunity to step into the future by demonstrating that sustainable home design can be as commercially viable as it is environmentally friendly.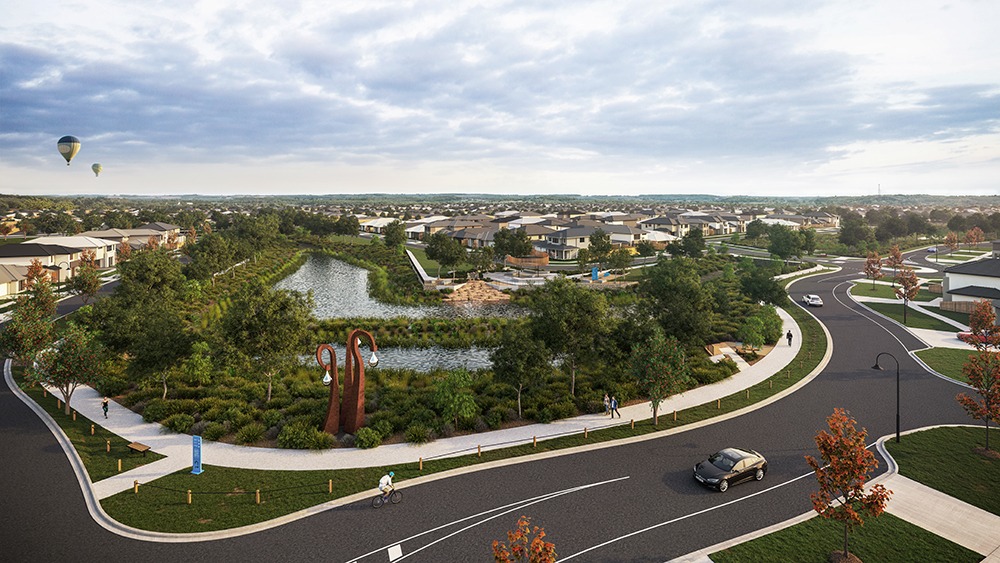 "With thanks to the UDIA for recognising Aquarevo with the Environmental Excellence Award, we genuinely hope that what is considered remarkable today, becomes the norm or the future.
"Australia's continued population growth, plus the pressure of rising utilities costs and reality of climate change all highlight that demand for homes that are both environmentally friendly and affordable to run will only continue," Mr. Costelloe said.
South East Water Managing Director Terri Benson also welcomed the award and said Aquarevo had been an exciting journey and a great learning experience for both organisations.
"The development brings to life a new way of providing water solutions to our customers, and by working with Villawood and builders we've been able to extend the benefits beyond water and create a great place to live.
"This is truly an example of integrated water planning helping create a better world for our customers," Ms Benson said.
Aquarevo is located on the site of South East Water's decommissioned sewerage purification plant in Lyndhurst, 40KM to the South East of Melbourne's CBD. Instead of on-selling the site for profit, South East Water partnered with Villawood Properties to showcase the possibilities of integrated water management in a residential setting, while creating a blueprint for future management systems that could be rolled out anywhere across Australia, even remote communities.
Mr. Costelloe added that Aquarevo also presented an opportunity to deliver an exemplar development in partnership with a public authority and the state government.
With more and more people moving into their homes, it has presented both Villawwood and South East Water a new raft of learnings and insights. Both organisations look forward to sharing their knowledge with others, and researching how they can take these initiatives to the next level and apply them in new ways.
Australia's premier builders have also embraced Aquarevo's vision and have collectively delivered 75 innovative home designs that are tailored to include its water and energy efficient features.
The key innovations that will be featured in each Aquarevo home include:
Rain-to-hot water system (including 2,400-litre water tank) where rainwater is captured from the roof and stored in the tank. The rainwater undergoes screening, filtration, UV and heat treatment before supplying hot water taps in the shower, bath and laundry trough.
TankTalk®, another important feature of the rainwater system. This solution helps the tank find out the weather forecast data, and then based on current tank levels and the likelihood of rain, the tank will release rainwater to before the rain comes, to help reduce stormwater flooding.
OneBox® technology system, an IoT-enabled device which monitors and controls the pressure sewer network, and to smooth out peak flows when needed. It also allows customers to track their daily water and energy usage through our customer portal and controls Tank Talk®.
An onsite treatment plant, which supplies the development with Class A recycled water, suitable for washing machines, toilets and outdoor use;
Intelligent pressure sewer system which will eventually help South East Water send wastewater to a Water Recycling Plant within the estate. The wastewater will be treated and then sent back to homes as Class A recycled water for use on the garden, in the toilet and for washing clothes or to irrigate the trees lining the streets of Aquarevo.
Generation of over 1000 MWh of renewable energy each year from solar panels installed as standard on all homes within the community;
Future proofing of each home through provision of a 5KW sonnen battery supplied to all new purchasers from April 2018; and
Electric vehicle charging points that could further improve the energy efficiency of homes as the green energy evolution continues.
Beyond the initiatives within each home, Aquarevo will have expansive wetlands bordered by lush native flora to attract local wildlife, providing both environmental benefit and a visual reminder of its vision for a liveable, sustainable community. Each home within strolling distance of open parklands, along with an extensive network of walking and cycling tracks to encourage a healthy, active lifestyle.
"Creating a community where sustainability, in every sense be it environmental, economic or social, is a central component. We're thrilled that the UDIA has recognised both Villawood and South East Water's efforts culminated at Aquarevo," Mr. Costelloe concluded.