On behalf of Victoria's urban development industry, our pre-Budget recommendations – as highlighted in our Quarter 2 Policy and Advocacy Update – focus on sector-specific issues the Victorian Government can realistically address in the 2021-22 State Budget, to be handed down 20 May.
---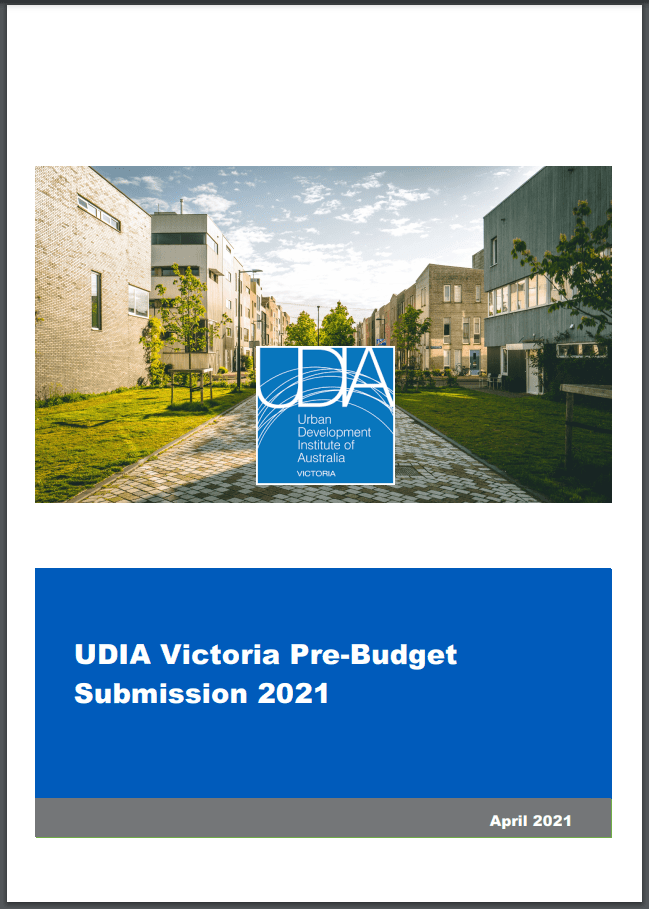 UDIA Victoria Pre-Budget Submission: Recommendations at a glance.
UDIA Victoria's key pre-Budget recommendations are focussed on support for all sectors of our industry and promoting housing diversity and choice. We're calling for stimulus for the apartment sector, and measures to instill confidence that our greenfield sector can remain healthy once current stimulus runs its course.
Our recommendations are rational, achievable, and supported by credible data, research and analysis.
Extend the 50 per cent stamp duty waiver on all new homes until 30 June 2023, to address increasing house prices by supporting the delivery of additional and diverse housing supply.
Reinstate 100 per cent off-the-plan stamp duty concessions for new central city apartment builds for 24 months, creating an incentive for purchasers to buy OTP, resulting in more project commencements and a boost to economic activity.
Extend the Vacant Residential Land Tax waiver until 30 June 2023, recognising that current market dynamics have transformed the VLRT into an unwarranted punitive measure for those unable to rent or sell stock because of the global pandemic.
Provide a 24-month holiday from the Foreign Purchaser Additional Duty, to encourage investment into Victoria's housing market.
Provide funding to the Victorian Planning Authority and local government to support the timely approval of planning applications, reduce red tape and support the supply of new homes throughout Victoria's suburbs and regions, until planning system reforms take effect.
Encourage active promotion of the central city as a great place to reside, inspiring homebuyer demand for the apartment sector.
Click here to access the 2021-22 UDIA Victoria Pre-Budget Submission.
---
Substance over spin.
In determining our pre-Budget advocacy, we committed to put substance above spin. What does that mean?
• It means channelling our efforts and resources into the issues for which our members need real action, rather than chasing pipe dreams.
• It means advocating for measures that lie within the Victorian Government's powers, rather than calling on it to tackle Commonwealth matters.
• It means recognising that the most recent State Budget was handed down less than 6 months ago – featuring record investment in housing and planning – and the reality is this Budget will be a difficult balancing act for Government as it begins the journey toward Budget repair.
• Mostly, it means being genuine with you, our members, respecting your time and confidence in us to keep you truly informed, without the smoke and mirrors.
---
Advocacy in Action: Support for the apartment sector.
In public and private communications, we've mounted a strong case for the Victorian Government to provide support for our hard-hit apartment sector. The message is simple, true and backed by evidence:
Melbourne's apartment sector is producing minimal apartment projects due to temporary pandemic induced trends.
The lack of new apartment projects commencing now will result in a distinct lack of housing supply once population growth resumes.
Without a reasonable apartment pipeline, Victoria's heading for disaster in terms of housing affordability, liveability and the state's economic recovery. The repercussions will be felt throughout the broader industry and housing market.
We need the Victorian Government to maintain the momentum of its 2020 stimulus, with a focus on housing supply that provides diversity and choice for people priced out of the detached housing market, like key workers.

Click here to read a UDIA Victoria Opinion Piece, published in the Herald Sun.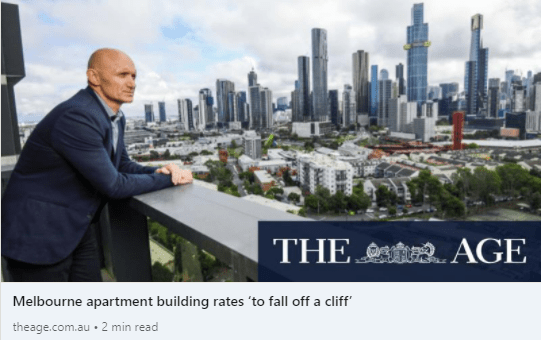 Click here to read a data-driven piece on the apartment market by UDIA Victoria in collaboration with The Age.
---
---
To subscribe to UDIA Victoria's industry policy and advocacy updates, please scroll down to the bottom of this page and enter your details.