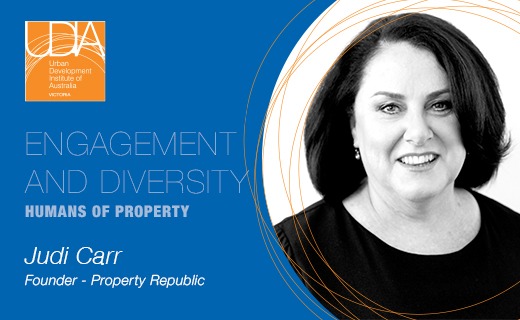 ---
Judi Carr, Founder, Property Republic
For this instalment of our Humans of Property series, we caught up with UDIA Mentor, Judi Carr, Founder of Property Republic.
Her greatest career achievement to date has been
Owning my own business through a number of different market cycles. Marketing is not as sexy as sales, as everyone thinks they're a marketing expert. It's not as easy as you think!
A challenging situation in her career that she overcame
When my values didn't align and I had to walk away from something I helped build.
A tip she would give to her younger self
So many tips. Listen to understand not to respond. Know your worth and be prepared to step away if you are being taken advantage of. Save enough money so that if you dislike your job, you can live for three months…then resign. Move companies more often. Be less critical.
What motivates her
Aligning myself and working with teams who want to deliver outstanding communities. I also love working with young professionals and watching them grow and be promoted.
When she thinks about the future of the industry
Teams that want to consult with communities before making critical decisions. This is something I witnessed and was excited by throughout my judging experience for the UDIA Marketing Awards this year. I appreciate teams and individuals who listen to the needs, lifestyle choices and expectations of their customers before taking action.
The positive changes in the industry that Judi has witnessed are
Greater transparency around product and pricing. When I first started, we would only tell customers the price on the day. Can you imagine that? It was a dreadful customer experience.
The best developers have a community engagement strategy. Even if your community is small, you still have an obligation to help foster a community, not just sell blocks of land and make profit.
Her greatest career inspiration/support has been
I'm fortunate to have a number of supporters from many different areas of the industry who agree that we have a huge responsibility to deliver great places to live.
The benefits she receives from being a UDIA member
I have been part of the UDIA Mentor Program for five years and I learn more than the mentees do. I have also been a Marketing Award judge for two years and that provides me with the opportunity to get out and see the latest and greatest. Previously, I was the Executive Director of UDIA Western Australia, so I fully appreciate the hard work the Institute does to assist its members.
I have seen the UDIA advance the industry in the following ways.
When I was at UDIA WA, I was not a fan of starting a Women in Property committee. I wanted us to be equal so we started Outlook@UDIA instead. When I moved to Victoria, I understood why Women in Property existed…no offence to Victorian men. But I am delighted that the committee is now Diversity and Engagement, and they are doing outstanding work.